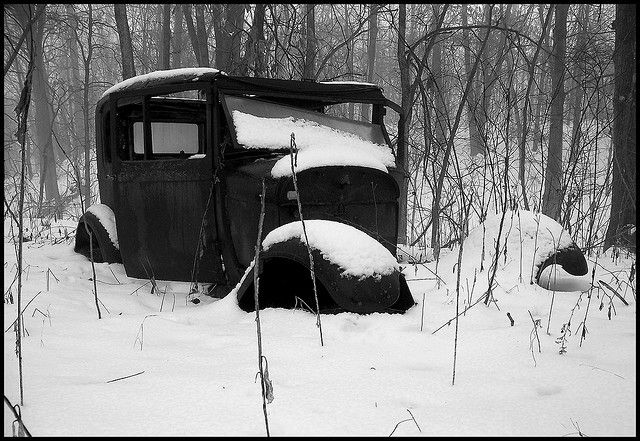 Retired Gangster~
Retired gangster resigned to his
hideout in the woods,
wheel-locked forever,
running boards buried,
metal armor still braced to every
I-told-you-so wind
while trees gossip with Winter birds
and a sky bloated with snowfall
vows to burden the gangsters
caving lid.
Tattletale blood stains fade with the elements,
old ghosts can't escape
through a prison of ice tangled trees,
innuendo whispers from floorboards
across seats
and out open-air windows
to the cover of darkness.
He's left to brood and reminisce,
the Moon and  Stars
his only night visitors,
grateful for their distant light.
He's lived a full life, 
a Notorious life
to a final comeuppance..
a bed of White,
Quiet
Cold
Lonliness..
Forgotten
© Augustsky
2013
Rick awards this ROTD 02/18/13
Awarded The Gallery by Bri 02/26/13